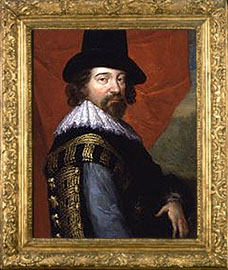 ---
All rising to great places is by a winding stair.
---
Money is like muck - not good unless it be spread.
---
Things alter for the worse spontaneously, if they be not altered for the better designedly.
---
The virtue of prosperity is temperance; the virtue of adversity is fortitude, which in morals is the heroic virtue.
---
---
Many a man's strength is in opposition, and when he faileth, he groweth out of use.
---
The best preservative to keep the mind in health is the faithful admonition of a friend.
---
Those that lack friends to open themselves unto are cannibals of their own hearts.
---
Nothing is terrible except fear itself.
---
They are happy men whose natures sort with their vocations.
---
We cannot command Nature except by obeying her.
---
Prosperity is not without many fears and distastes, and adversity is not without comforts and hopes.
---
Fortune is like the market, where many times, if you can stay a little, the price will fall.
---
There is no excellent beauty that hath not some strangeness is the proportion.
---
Hope is a good breakfast, but it is a bad supper.
---
The worst solitude is to be destitute of sincere friendship.
---
Truth emerges more readily from error than from confusion.
---
Time is the author of authors.
---
There is no man that imparted his joys to his friends, but he joys the more; and no man that imparted his grieves to his friend, but he grieves the less.
---
They are ill discoverers that think there is no land, when they see nothing but sea.
---
Little do men perceive what solitude is, and how far it extended. For a crowd is not company, and faces are but a gallery of pictures, and talk but a thinking cymbal, where there is no love.
---
I would live to study, not study to live.
---
---
The sun, though it passes through dirty places, yet remains as pure as before.
---
As the births of living creatures at first are ill - shapen, so are all innovations, which are the births of time.
---
Generally music feedeth that disposition of the spirits which it findeth.
---
If a man will begin with certainties, he shall end in doubts, but if he will content to begin with doubts, he shall end in certainties.
---
He that will not apply new remedies must expect new evils, for time is the greatest innovator.
---
Atheism is rather in the lip than in the heart of Man.
---
God Almighty first planted a garden. And indeed it is the purest of human pleasures.
---
It is left only to God and to the angels to be lookers on.
---
A wise man will make more opportunities than he finds.
---
The lame man who keeps the right road outstrips the runner who takes a wrong one... the more active and swift the latter is, the further he will go astray.
---
Revenge is a kind of wild justice, which the more man's nature runs to, the more ought law to weed it out.
---
Anger makes dull men witty, but it keeps them poor.
---
If a man looks sharply and attentively, he shall see fortune; for though she be blind, yet she is not invisible.
---
Some books are to be tasted, others to be swallowed, and some few to be chewed and digested.
---